Bred Female Listings
11/20/23 4:24:14 PM
15th Annual 5G Cattle Bred Female Sale
Wednesday Dec 6th @ 5:00
At Keosauqua Sales Co Keosauqua IA

150 hd 3 yr old Angus cows coming with 2nd calf
They are mated to Hereford bulls to start March 1st
Ultrasounded early and will be sorted into
tight calving groups with sexed calves
Very high quality set!


170 fancy Angus Heifers
AI bred to Genex sire B/D Rice Standout 9065
Start calving Feb 20th
Cleaned up with LBW Ochsner Ranch Angus bulls
Angus Heifers are NW Nebraska Sandhill origin
Ultrasounded to determine calving time and sex of calves
Sorted close for disposition

140 F1 Black White Face Heifers
AI bred to Genex sire B/D Rice Standout 9065
Start calving Feb 12th
Cleaned up with LBW Ochsner Ranch Angus bulls
Ultrasounded to determine calving time and sex of calves
An outstanding group that are the ideal female to sustain you in the beef business

60 hd Angus Heifers
AI bred to Hereford Bull BG LCC Perfecto 84F
start calving March 1st
Cleaned up with Hereford bulls
Ultrasounded to determine calving time and sex of calves

60hd Angus Heifers
Reeves Ranch Origin
AI bred to OCC Angus Bulls
start calving Feb 1st
cleaned up with OCC Angus bulls
ultrasounded to determine calving time




Heifers were vaccinated with Vista VL5 HB, Pinkeye, Multi-Min at breeding time.
They were run on a complete mineral program. All Cattle run on native grass fescue pastures this summer.
They were ultrasounded in the summer to confirm the AI dates.
They have been poured with Clean up 2, Safeguard oral wormer and Scour Bos 9 vaccinated and examined safe in calf by Canton Vet Service.


If you can't attend the sale register on www.LiveAuctions.tv to bid
Click below for link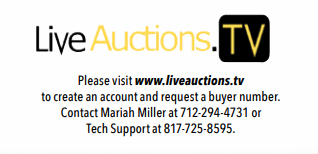 Sale at Keosauqua Sales Co
Keosauqua IA
Bill Goehring 641-919-9365
Lucas Goehring 641-919-6272
Sale Barn

319-293-3508
Auctioneer Cody Lowderman 309-313-2171