April 2022
04/07/22 8:53:00 AM
4-28-22
April weather is still bouncing around all over the place. The past week we have seen lows to 27, highs up to 70, rain, cloudy, windy and a couple of days that had beautiful sunshine! We are sure hoping for a stretch of nice warm weather to get the grass going and get a crop started! The next few days look to have some off and o rain and lows in the high 30's and highs in the 60's.
Saturday's sale had a good run of hogs a pretty steady market. The sows were pretty much $85 to 91 and butchers sold from $75 to 84. The pig market was mostly 90 cents to $1 a pound. A pretty good-sized run of sows with over 60 head of big sows in the run.
The sheep and goat sale had 500 head. The top 50-pound kids were at $4.90 per lb. The majority of kids were selling from $4 to 4.50 a lb. Nannies sold for $1.45 to 1.80 a lb. Big billies were not tested. Lambs sold from $3.20 to 3.65 and a fancy set of 96-pound lambs sold at $2.87 a lb. Ewes sold from $1.20 to 1.70 a lb. and the big buck brought from 90 cents to $1.20 a lb.
The outside sale had the strongest hay market of the season. Small square bales were mostly $6 to 8.50. Straw sold from $2.50 to 3.50 a bale. Big round bales sold from $70 to 97.50. Big squares were from $70 to 100 and round bales of straw sold at $30 a bale. The hedge post market had lines at $2 to 15 and corners were at $10 to 35 on pretty average quality. Lots of misc. items kept Col. Mike busy over the noon hour.
We had the local ambulance crew come by and check on a guy outside. He ended up fine and I'm sure he will be back this Week! Regulars just have a strong passion for the sale!
The cattle sale had a big run of weigh cows and several veal calves. The calf market was $250 to 425 on beef calves and $50 to 150 on the dairy. A 2-year-old horned Hereford bull brought $3050. A few odd pairs and breds in this week's sale had middle aged pairs up to $1600. Feeders had pretty good interest as well with three weight bulls over $2.00; five weight steers over $2.00 and a little group of 800-pound steers sold at $1.49. Heifers weighing 68 pounds brought $1.77 and seven weight heifers $1.35 to 1.38. There were right at 300 weigh up cows this week and sold to a steady market. The top yielding cows sold from $80 to 96. The top bulls brought $1.00 to 1.13 a lb.
I am a little slow getting the news out this week. It seems like time if flying by right now! We are in the midst of AI breeding the Hereford cows and hope to be finished by noon tomorrow. AI breeding on heifers is a task by itself but AI on those pairs is another whole project! We will be done, and I will be looking forward to next year pretty quick. It seems to take more ibuprofen to get me thru a season anymore!
The boys are moving the first set of black heifers to AI towards the working facility and should have them out to grass by Tuesday or Wednesday next week!
A good run of bred cows, spring pairs and some nice bulls in for this week's sale as well as a fancy set of bred ewes!
Have A Dandy Week!
4-19-22
One thing for sure about southeast Iowa weather, it will change from morning to evening this time of year. We have had rain, sunny, windy as the dickens, snow, cold and cloudy all in the past week. What we haven't seen is too many warm sunny days! Easter Sunday saw a couple inches of wet, heavy snow. Today we made it to 50 and sunny, it felt really nice! The forecast is calling for showers over the next three or four days but warming into the 70's later in the week. That will get the flowers blooming!
Saturday was a busy sale day. The hog sale got a running start and moved almost 400 head thru the ring. The market was steady on sows and a little lower on fat hogs. The top sows sold at $95, while the top fat hogs were $75 to 80. The pig market was steady with 50-pound pigs at $48; 60-pound pigs at $65 and 100-pound pigs at $85. Big boars are still 5 to 10 cents a lb. Still an opportunity for someone to invest some way of making boar meat into a useable product that might create competition for them!
The sheep and goat sale had 500 head this week and really a good active market. Kid goats sold mostly $3.80 to 4.30 per lb. Lambs weighing 50 to 75 pounds sold from $2.90 to 3.00 a lb. Pound ewes sold at $80 to 95. Cull nannies were $1.25 to 2.00 a lb. Big billies sold from $1.40 to 2.35 a lb. Still a big crowd here over the weekend but nobody from Mississippi this week!
The outside sale had 1075 small squares, 500 big bales and 389 hedge posts. I was concerned Col. Logan would run out of gas, so I took the little bales and all the big bales. Logan sold hedge and everything else! The hay market was pretty steady on small bales with most at $4 to 6. The top was at $8. Straw sold from $4 to 5 again this week. Big bales topped at $80 on some four-foot net wrapped bales of inside good quality mixed hay. Grass rounds were mostly $60 to 75. Big squares were from $37.50 to 75. The hedge post market was sure solid on a larger offering. The top lines brought $30. The top corners were at $50 to 60. Lots of line posts were at $7 to 20 and corners brought $20 to 35. The old chute brought $1500 and all kinds of interest in misc. items made for a good day for Col. Logan.
The cattle sale grew to 1700 head this week. The market was lower than two weeks ago but had remarkably strong interest in feeders in the face of out of control feed costs! Baby calves led off the afternoon with a twin black white face three day old model bringing a season high of $625! I know to expect a very large run of them next week! Most beef calves sold at $300 to 400. Dairy calves were more like $75 to 125 this week. The feeder sale had five weight steers still over $2 a lb. and 650-pound steers topped at $1.72 to 1.74. A fancy set of Angus steers weighing 785 pounds brought $159.75. A partial load of 851-pound steers brought $1.49. The heifer market was sure as steady. Four weight heifers weighing 497 pounds topped at $1.74; some 580-pound heifers hit $1.65. Smaller groups of seven weight heifers brought $1.34 to 1.39. Weigh cows totaled 270 head. The market was fully steady with a $96 top fat cow. The bulk of the cows ranged from $70 to 85. Bulls ranged from $80 to 1.15. It was 10:30 Saturday night when we sold the last one!
It was quite a long weekend for everyone here! Friday a three man crew tried to keep up unloading at the barn. At noon it was lined up five deep to the highway. The rest of us went to put CIDRs in a group of heifers at about 2 and when we returned to the barn at 5:30 the line was 10 deep and on the edge of the highway! Saturday morning Ted & I sat down for breakfast at about 6:30. Trailers pulled in and it was game on from then until noon when I was selling hay, trailers were still lined up the highway to get unloaded Sunday morning after a little nap, I was at the barn at 7 when the first rig rolled in, I was going to lunch at 11:30 to 1:00 with the Lagles, but never made that. Savannah came over to help move stock to hay and water, young Owen was here until nearly 6 when we finally wound down!
I am very thankful that to my knowledge, everything counted out right and got delivered by Monday evening. We lost one old crud cow but no other livestock, or human injuries! That is what makes a good sale for me!
I am going to Webster City this afternoon to look at some cows and calves that are looking for a new home. Yesterday afternoon, we processed pairs at home, and I put CIDRs in them. The boys are working pairs at Ted's today, hoping to send them to pasture on Thursday or Friday.
I shipped a couple loads of heifers this morning and have a load of steers out of the country tomorrow morning. We will be pulling CIDRs on heifers on Wednesday and giving Lutelyse on Thursday. Then before you get two nights sleep it is Saturday again!
Lining up some nice feeders again for Saturday and have the start to a good cow sale for April 30th.
Have A Dandy Week!
4-11-2022
We hit some really beautiful weather thru the past weekend into today! Sunny and right at 70° today. Tuesday looks to be good and then storms are moving thru again overnight. There is a big snow forecast for eastern Montana and the Dakotas, so hope they receive the moisture. They need moisture desperately to be able to head into this spring! The forecast looks cool going into the coming weekend. Traveling around, there is almost no field work being done yet. I have seen a few anhydrous tanks moving and some manure being spread. There are planters and tillage equipment hooked up, but it is too wet and cold for anyone to make a move yet.
Saturday had another record crowd in town! We started early and had a great hog market again this week. Sows were steady in the upper $90's and fat hogs sold from $84 to 89. Feeder pigs were steady with 39-pound pigs at $36; 55-pound pigs at $53; 76-pound pigs at $70 and some weighing 102 pounds bringing $87. Pigs sold from as far away as Belmond IA, which is north of Des Moines, 220 miles from Keosauqua!
The sheep and goat sale had 875 head of all classes. The market was steady on kid goats and lower on most everything else this week. Most kids sold from $4.20 to 4.60 a lb. with at top of $5.30 a lb. on some 57-pound kids. Nannies were mostly $1.20 to 1.70 a lb. and big billies brought $1.70 to 2.25 a lb. The lamb market was $2.90 to 3.30 for all weights up to 90 pounds. A very fancy set of 98-pound fat lambs sold at $3.00 a lb. Cull ewes brought 85¢ to $1.20 and market is sure wanting to move lower. Bucks sold from 90¢ to $1.15 a lb.
Before I went outside to sell hay, I did a quick survey of the crowd. First question, how many people can say this is the first time you have been to a sale here? A rough count of 18 hands were up. Second question, how many drove at least an hour to get here? Well over 70 hands were up. Third question, how many drove two hours, still had 15 to 20 hands up. Fourth question, how many drove at least three hours? There were over 10 hands up. Fifth question, who came the farthest? There were folks from Mississippi that were here selling 21 kid goats. That's 650 miles to come to the sale!
The outside sale had nearly as big a crowd. We had a bigger group buying small squares and misc. items than were after big bales. I guess folks like doing business with Logan better than with me! The small bales were good, mostly $3 to 6 with a $7 top. Straw sold from $3 to 4 a bale. Big rounds were mostly $55 to 75 this week. Big squares sold from $50 to 80. It seems like demand is strong as everyone is trying to get another week or two down the road until grass shows up better. Some people have hay around, but it has been to muddy to get to their own pile this week. The hedge post market was steady. Bridge planks 16 to 22 feet long sold from $35 to 55 each. A yellow creep feeder without side gates brought $3100. It was a beauty of a day to be outside for that portion of the sale and the crowd enjoyed it as well.
The cattle sale totaled 700 head this week with the bulk being cows. The baby calf market was mostly $200 to 400 on beef calves and $75 to 200 on dairy and crossbred calves.
There was good interest in pairs again with middle aged pairs selling from 2100 to 2450. First calf heifer pairs were steady at $1900 to 2350 on both black & ed pairs. Bred cows were mostly $1700 to 2100 for younger cows and $1000 to 1400 on older third period cows. Fall bred cows were from $1000 to 1400. Demand was very sluggish on breeding bulls. Weigh cows were steady with the top end cows from $85 to 95. Most of the average yielding cows sold from $75 to 85. Bulls sold from $95 to 1.13 with one big 2200-pound bull at $1.24 going back to the farm.
Sunday the boys took advantage of the good weather and gathered up heifer pairs and worked all the calves and run the heifers thru the chute to get vaccinated, wormed and poured. They had an awesome crew and Cody and the girls fed everyone at lunch and a big supper! The little girls had a really big day!
A special feeder sale coming up next Saturday.
Happy Easter & Have A Dandy Week!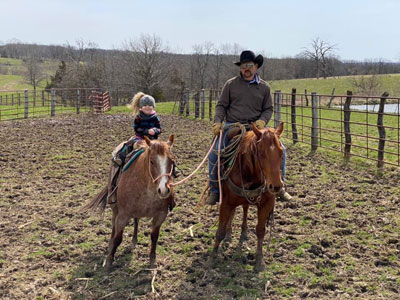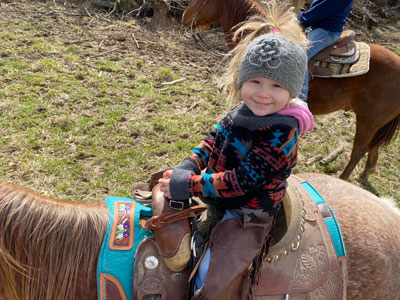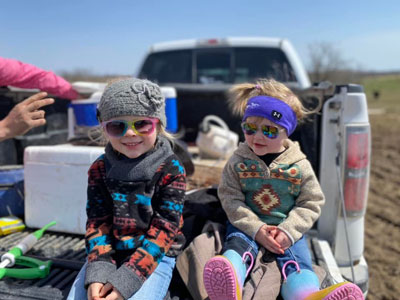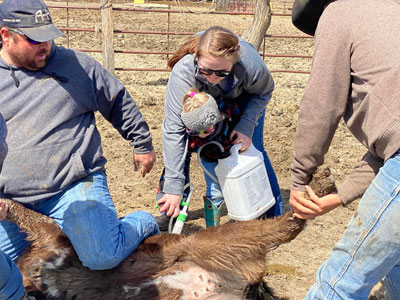 4-6-2022
It is still muddy around here! We had rain last week and again last night that has everything soaked up for a while. It is sunny today and expected to be windy for a couple of days then get colder going into the weekend. It might even snow again!
Saturday's sale got big again, we started early on 400 hogs. The market was sure solid with sows at $95 to 99 on ones weighing over 500 pounds and lighter sows were at $78 to 89. Fat hogs sold from $82.50 to 93. Feeder pigs weighing 67 pounds brought $65 and some 82-pound pigs sold at $108 per head.
The sheep and goat sale had a large run, huge crowd, and a strong market again this week. Baby lambs sold from $80 to 95. Light lambs sold from $3.50 to 3.60 a lb. A group of 76-pound lambs sold at $3.25 and a fancy set of 95-pound lambs brought $3.00 a lb. Ewes were mostly $1.17 to 1.20. Kids goats weighing 50 pounds sold at 4 to 4.00 a lb. 60-pound kids were topping at $4.20 to 4.40 a lb. Nannies brought $1.60 to 2.00 a lb. and big billies were up to $2.50 a lb.
The outside sale was active with less hay this week. Small squares brought from $3 to 8. There was no straw, but cornstalks sold from $3 to 5. Big round bales of hay were more $50 to 77 than under $50 this week. Big squares were mostly $60 to 75 per bale. Hedge posts were sold $7 to 25 on line post with no corners in the sale. All kinds of misc. items this week. Live traps brought from $10 to 50. A show box sold at $750. A portable generator was at $600 and a small bulk bin with no hopper brought $450.
The cattle sale got started about 1:30 with a large group of baby calves. Beef calves sold from $100 to 400 and dairy calves brought $35 to 85. A good run of feeder cattle of about 1450 head sold to an active market. The market continues to be strong in the face of all the things trying to slow it down! Four weight steers topped in the $2.10 to 2.16 range. The top five weight steers hit $2.16. A big load of steers weighing 595 brought $1.93. The top steers weighing 734 pounds sold at $1.75 and a load of 858-pound steers brought $1.55. The heifer market was also very solid on all weights and classes. The better four weights sold from $1.75 to 1.85. The top five weight heifers were $1.61 to 1.66. Some 650-pound heifers sold at $1.66 and seven weights brought $1.35 to 1.47. Weigh cows sold very steady with the bulk at $75 to 85. The top cows were getting in the $95 to 100 range. Bulls sold mostly $1.00 to 1.10.
The sale finally got over about 9:45 and I was supposed to be in Kansas City for supper by 6! Well as soon as the sale got over, I headed to the airport to meet Ben and before midnight I was checked in and bedded down in Kansas City! Sunday morning at 7:30, we kicked off the spring Hereford board meeting. We covered all kinds of business and planning over the three days. It is still horrible dry in areas of the west and northwest. Those fellas sure are needing snow or rain over the next few weeks or more liquidation is likely to occur.
A good run of bred cows, some fancy heifer pairs and breeding bulls coming to the sale this week.
Have A Dandy Week!